The two Norma's named as champions of champions in Kensington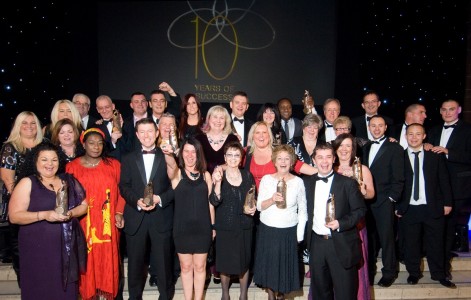 A dynamic duo from Kensington have been crowned regeneration champions for their dedication in helping to improve their community.
Norma Lee and Norma Williams – known locally as 'the two Normas' – have been at the centre of efforts to support residents throughout a major housing programme.
Last night (25 November) they were presented with a Champion of Champions award by Kensington Regeneration, at a celebration event held to mark the final year of the partnership's programme.
Norma Williams has been chair of Kensington Regeneration for three years and a resident Board member from the start of the partnership in 2000.
Both Normas led a group of residents in the Edge Hill Housing Focus Group, at a time when feelings were running high after compulsory purchase orders had been announced.
Together they tackled the issues of bridging the financial gap between the value of the homes being demolished and the cost of the new homes being planned to replace them. A shared equity scheme was developed which enabled home owners to buy the new properties.
They secured practical help and support for people left feeling isolated and vulnerable as their neighbours' homes became vacant and 'tinned up'. And they worked with Bellway to ensure the new homes being built were suitable for the mixture of young families and older, disabled people being displaced by the housing programme.
Kensington Regeneration chief executive Lynn Spencer said: "These two amazing women have shown enormous strength of will and determination. They have not been afraid to hold the developers and the council to account and to keep pressing until all their concerns were answered.
"Many people would have given up when things became difficult, but the two Normas battled on and it is largely thanks to them that friends and neighbours in Edge Hill have been able to relocate together, to the same street of a new development in Tunnel Road."
The event took place at Liverpool Cathedral, compered by Gordon Burns of BBC Northwest Tonight, with speeches from Gee Walker of the Anthony Walker Foundation and Colin Hilton, chief executive of Liverpool City Council.
Other award winners were: employment and enterprise champion – Dream High; education and Training Champion – joint winners, head teachers Charles Daniels of Sacred Heart School; and Denis Hardiman of St Sebastian's School; community safety champion – Sgt Simon Joyce; neighbourhood management and development champion – the Clean Team; homes and streets champion – Community Wardens; community engagement and health champion – Siddi Majubah; resident champion – Bernie Hunt; agency champion – the Health, Energy and Advice Team (HEAT); regeneration worker champion – Maria Curran; Board member champion – Pat Dermott.
To download a brochure showing the winners and the highly commended please click here.