Olympic medals for Kensington special athletes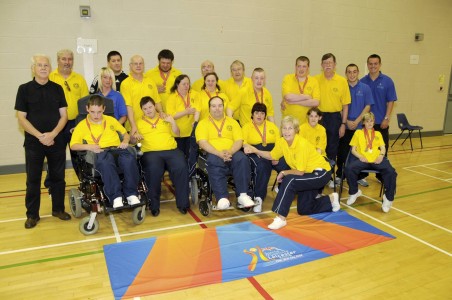 A group of Kensington athletes have swept the board in the national Special Olympics.
A team of nine boccia players from Kensington and Fairfield Multi Sports Club scooped 17 medals including three individual golds, while gymnast Miriam England won bronze, silver AND gold.
Club organiser Joan Bateman said: "For some of our players it was the first big event they had ever entered, so I am so proud of them.
"I am very proud of all our athletes, who were a shining example, while our five volunteer coaches did a brilliant job. They all did the city of Liverpool proud."
The Special Olympics are held every four years, following on from the para Olympics. This year the national games were held in Leicester and were attended by more than 2,300 athletes over five days.
"It was an amazing experience, with thousands of people with learning disabilities from all over the country, marching into the stadium in their new kit, applauded by a huge, enthusiastic crowd," said Joan.
The club trains every Friday evening at Kensington Community Sports Club. It was founded in 2000 as a spin-off from Liverpool Special Needs Gymnastics Club. Newcomers are always welcome, the only criteria being that they have a disability which prevents them from taking part in mainstream sport.
The team who triumphed in this year's Special Olympics boccia were:
Jacky Brown, individual gold, team silver; Karen Moore, individual gold, team silver; Nicky Brown, individual silver, team gold; Brendal Farrell, individual gold, team silver; Adam Crank, individual 4th place, team silver; Alex O'Brien, individual 5th place, team silver; Vicky Hargreaves, individual bronze, team 4th place; Simon Grey, individual 5th place; Adam Munro, individual bronze.
Joan thanked hard-working coaches John Crank, Alan Russell, Steve O'Brien and Rob Munroe.