Baby room named in honour of nursery worker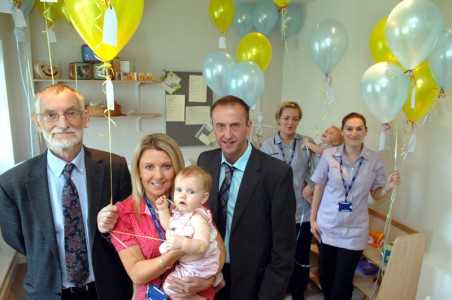 A new nursery baby room has been opened in memory of a much-loved teacher in Kensington. Sue's Room at the Field of Dreams Nursery in St Sebastian's School has been dedicated to Sue Jeffcote, who died last year.
The room was created with funding from Kensington Regeneration, who were also one of the main funders of the Field of Dreams, which opened in 2004. Sue was a teacher at St Sebastian's and part of the team which planned and secured finance for the nursery.
Deputy Head Margaret Hagan said: "Sue worked with passion in everything she did. She was a talented teacher and brought many initiatives into school and the Field of Dreams, many of which still continue today. She loved drama and literature and instilled in her students a love of these too.
"Sadly, Susan passed away before the new baby room was finished but she would have loved the idea of the enrichment and continuity of care that the room symbolises, nurturing children from birth to 11 years at St Sebastian's.
"Sue was well respected by everyone who met her; she loved children and was a wonderful mother and grandmother. The idea of naming the room after her means that all Sue did will always be remembered."
Sue's husband, mother, father, daughter in law and three grandchildren were present at the opening ceremony, along with staff, pupils and supporters.